Criteria 5 – Washroom Wall Reinforcements






STRUCTURAL
& DESIGN

Criteria 5 – Washroom Wall
Reinforcements

"How To"
Details
How To Details
Criteria 5 – Washroom Wall Reinforcements: Reinforced with 2"×12" solid lumber in all washroom tub, shower, and toilet locations.
Most home owners consider their bathrooms second only to the kitchen in terms of importance to the overall value of their home, so, we've made them an important portion of the SAFERhome Program.
Let's look into some ideas, which, although barely visible, will improve the comfort and function of the home.
One example is the reduction of potential slipping in the shower. The solution to this common occurence is easy. All you have to do is install some form of wall hung supportive device. But, if you don't have reinforced walls and you want a supportive device, it is almost always renovation time. This is a very time consuming, expensive, and frustrating operation.
On the other hand, you can reduce costs, inconvenience, and frustration to almost nothing simply by having your builder do a couple of things for you while your new home is under construction.
The simplest insurance is to nail 2x12 inch solid lumber horizontally between the existing studs. The blocking pieces should be centered 36 inches from the top of the finished floor and will provide a strong backing to support future installation of safety bar features that can be attached anywhere from 30 to 40 inches above floor level. The cost is minimal.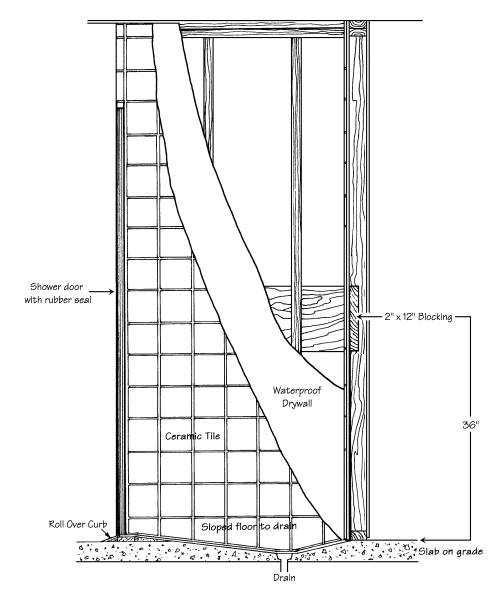 We always recommend using 2 x 12 inch solid lumber for reinforcement because the extra thickness makes it much stronger than 1 inch plywood. It holds screws better, costs less than plywood, and you can often find exactly what you need among scrap from the jobsite reducing your material cost to zero.
The main reason for this reinforcement is to make installing grab bars and other SAFER accessories painless in the future. The soap dish is not designed to hold us upright.
Reinforcements for stabilization and other safety devices in the shower or bath is an invisible SAFER feature and can only add to your home's future value.
If your walls are reinforced this way, you will also have a much wider range of choices when you look at stabilization devices.
Wall studs on 24 inch instead of 18 inch centers? No problem, you can still have a grab bar any length you like because wherever you attach it you will be screwing into solid wood. Towel racks will never come loose, and you'll easily be able to attach things like telescoping mirrors or future electric lifting devices anywhere they are needed.
Of course, if you are really planning for the future, do the whole bathroom reinforcement in the shower area and behind the toilet for future arm rest installation options and towel racks for example. Using this system, you can attach racks securely wherever you wish.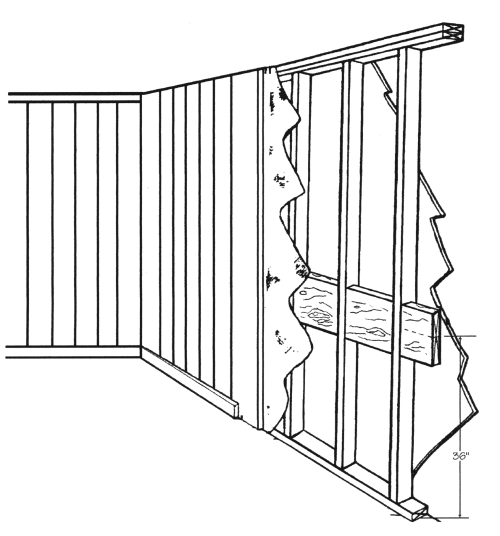 The 2 x 12's also add rigidity to the walls themselves, and add strength at the pressure point where racks and devices are attached. This is important particularly if you have finished the tub or shower area in special tiles. A wall which moves in any way, shape, or form will lead to cracked and broken tile which will lead to water leaks. Don't even think of scrimping on the bathroom wall reinforcement!