Renovating or Building a New Bathroom
Renovating or Building a New Bathroom
Written by Patrick Simpson
Executive Director, SAFERhome Society
If you are looking at your existing bathroom and thinking about renovating the room, you will benefit from a little Universal design knowhow before you start. If this is your retirement home and you want to stay independent for as long as possible, a few inexpensive details will make a huge difference to fulfilling your own wishes.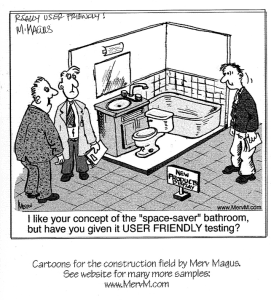 To start— the shower and toilet areas should have the walls re-enforced for any future safety holds or multi-purpose towel racks. I use the word 'safety' because I would never put a 'grab bar' in my home.
Grab bars are a hospital or other public area concept which are over-kill for a home and provide a look which devalues your home, potentially labels you as disabled or handicapped, and looks institutional and lets face it, both ugly and institutional. There are some really nice products out there which are attractive while giving you the support you need without compromising your homes look and feel. Have a look at the product line from Moen for some options of towel racks masquerading as safety bars.
Once you begin the renovation and have the walls open it will only cost forty bucks. A very small investment to future proofing and future profit from your home by building a little extra strength into the wall to attach the safety bars or even a seat.
SAFERhome have done a number of cost studies and followed the Universal design research of this re-enforcing of the walls detail: the base starts with installing 2×12 solid lumber between the studs, with the centre of the board 36 inches above the finished floor. Every time we have costed it out, and this included, comparing the cost of using a new 2×12's compared to the cost of pulling what lumber we needed off the site scrape pile. One way you pay for the product and small labor, the other way you pay for labor and help recycle. It still ends up about $40.
Other ideas to include will be covered when I write about each concept shortly. They include issues with an electrical outlet beside the toilet, offset plumbing controls, minimal threshold or tripping hazard into the shower,and door sizesand operation.
Giving Inclusion More Power To Society