SAFERhome Standards updated September 2017
to 15 detailed measurable building points!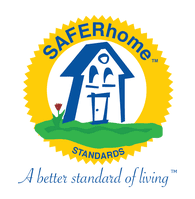 SAFERhome Standards was established in 2004 to empower the consumer and give them a way to measure tangible and real changes in how a home can be built. This Universal Standard originated in 1997 and included a low voltage wiring network that delivered improved communications, house management and environment control options.
At that time, wireless technology was still unreliable and hardwiring was the only way to get consistent control and solid security. The market place has since changed and evolved and there is now a large collection of wireless options that consumers can plug and play into their home without the need for a low voltage wiring network.
Although SAFERhome still believes that wireless is less reliable and less secure, the market and the consumer have now accepted wireless as a solid consumer product. To reflect this change in the market place SAFERhome Standards have been adjusted to give the consumer more options and more cost control.
The new Universal Home Gold Standard for SAFERhome is now 15 detailed measurable building points with 3 supplemental options from the 19 detailed measurable building points.