ASTTBC Renews Link with SAFERhome Standards Society
ASTTBC Renews Link with SAFERhome Standards Society
SAFERhome folk visited ASTTBC recently to re-connect and consider how the two groups might once again collaborate in the delivery of the SAFERhome program.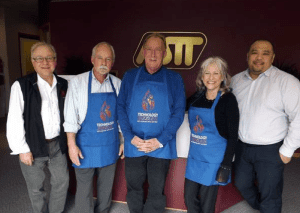 Pictured here are (l to r): ASTTBC CEO John Leech; SAFER Executive Director Gord Porter; Founding Executive Director Pat Simpson; SAFER marketing and promotion champion Debbie Walker and ASTTBC Manager, Professional Practice & Development, Jason Jung.
Several years ago ASTTBC collaborated with SAFERhome in developing and publishing a Guide. In addition ASTTBC and SAFERhome collaborated in developing a special SAFER Certification program for ASTTBC registered House and Property Inspectors. ASTTBC members who complete the training are recognized by SAFERhome to inspect and approve a building as having met the SAFERhome Standards.